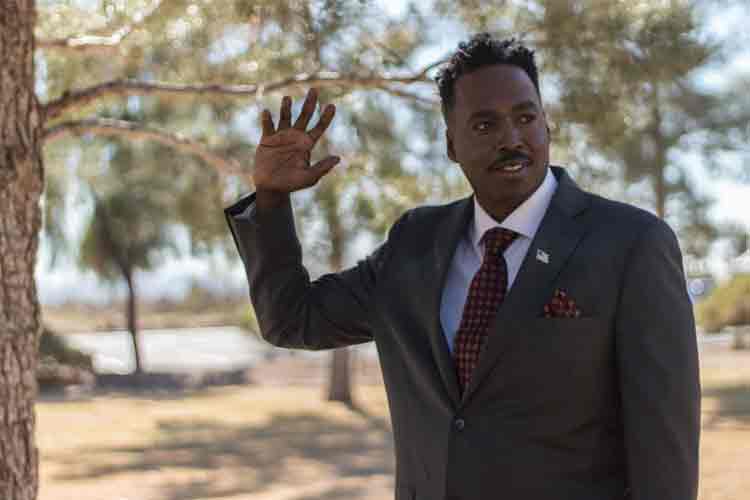 About Robert Van Strawder Jr
Robert Van Strawder is a father, community leader, and filmmaker, running for Nevada's 1st Congressional District. Strawder's story of success is an inspiration to all Nevadans. Robert rose from one of the toughest projects in the state to now run for U.S. Congress representing District 1. His goal is to change the culture and lives of his community.
From the Streets To Politics
Robert Strawder was born in Los Angeles and raised in North Las Vegas. In the 80's, The War on Drugs and the crack epidemic ripped through his neighborhood and tore his family apart. Both parents became victims of crack cocaine and Strawder suddenly became the head of household at the age of sixteen. To support his family, Robert sold drugs and became an overnight success, garnering the name "Vegas Don." Since leaving the criminal street life, he re-committed his life to serving his community at the highest level as he runs for U.S. Congress District 1 in Las Vegas, Nevada.
Enough is enough
Robert Van Strawder is a highly active community grass roots leader who is not afraid to roll up his sleeves to tackle the big issues other politicians shy away from every day. He works directly with at-risk youth, providing words of hope and promoting a healthy lifestyle away from drugs and violence.
Teens in Las Vegas admire Robert because he is authentic. The city gave him the title of "Vegas Don." His artistry in hip hop is legendary in Las Vegas. Strawder's story is the story of America. Anyone can succeed, fail, and succeed again. That's why I'm a Libertarian," Strawder says. "And that's why I want other citizens to be Libertarian, too. Opportunity must be created. Success must be earned. It requires a long quest."
Robert Strawder, Jr. is an entrepreneur. His passion project, DBlocc Records, was highly successful for several years until his major investments were wiped out when the housing bubble burst in 2008. Between the government-fueled economic recession in 2008, the war on drugs' direct impact on his childhood, and the complete failure of our lawmakers to provide real solutions to America's worst issues, Robert has had enough.
Robert Van Strawder is running for U.S.Congress. His goal is to hold our leaders accountable. He knows first-hand how government policies hurt working class families every day. In 2018, the Democrats and Republicans won't be ready for a principled black Libertarian to put them in his sights. "I've been listening to the two parties for 40 years," Strawder says, "I'm done with that."